What kind of path should Turkey follow for development in the field of destination weddings?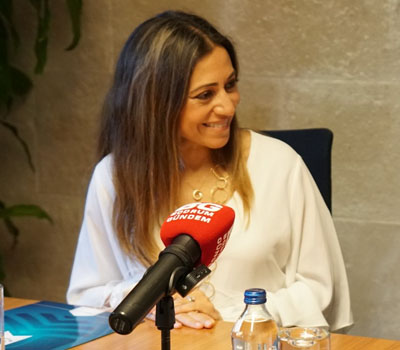 Kitzia Morales, President of IADWP (International Association of Destinations Wedding Professionals), made statements about what needs to be done for the development of destination wedding organizations and wedding tourism in Turkey.
International Association of Destinations Wedding Professionals – Within the scope of IADWP 's 17th International Wedding Workshop held in Bodrum , IADWP President Kitzia Morales; She made suggestions on what needs to be done in order for Turkey to get a bigger share from the worldwide destination wedding organizations.
2,500 MEMBERS FROM 44 COUNTRIES
Stating that IADWP , which is based in New York, was founded in 2007, IADWP President Kitzia Morales; She announced that the association has 2,500 members from 44 countries.
"ALL OF OUR MEMBERS IN THE USA AND ITALY KNEW MURTAZA KALENDER"
IADWP President Kitzia Morales made the following statements about the formation and establishment process of the association's IADWP Eurasia:
"A gentleman from Turkey contacted me during the pandemic process. I had no idea who he was. I asked our members in Italy, Spain and the USA. Everyone knew Murtaza Bey. We started to talk. Mr. Murtaza stated that IADWP is very strong in the USA and the Americas and we need to carry this power to Europe and Asia. We have decided to move our power to Eurasia as well. All of our members and managers knew Murtaza Kalender. Our members were also very willing to work with Mr. Murtaza. That's why we decided to establish the Eurasian structuring of the IADWP".

"THE MOST IMPORTANT COMMON POINT OF OUR BOTH IS OUR PERSONALITY TO WORK AND OUR ENERGY"
Stating that they have very similar views with Murtaza Kalender on many issues, IADWP President Kitzia Morales said; "Murtaza, just like me, loves tourism and his country. I also love tourism and my own country. But the most important common point between us is our determination to work and our energy. What we both have in common is that we are unstoppable."
"A RACE TO TURKEY HAS STARTED IN THE AREA OF DESTINATION WEDDINGS"
Kitzia Morales, who shared her views on the development of Turkey wedding tourism and destination weddings; He pointed out that "a race has started in the field of destination weddings for Turkey".
REASONS FOR CHOOSING TURKEY
IADWP President Kitzia Morales explained the reasons why Turkey has been preferred for destination weddings; geographical beauties, gastronomy, hospitable people, transportation opportunities, the conveniences it provides for many countries in terms of visa, and the absence of strict restrictions during the pandemic process.
HIGH DEMAND FROM INDIA, IRAN AND LEBANON TO TURKEY
Kitzia Morales; She added that there is a very high demand for wedding organizations from India, Iran and Lebanon to Turkey.
HIGHLIGHTED DESTINATIONS IN ISTANBUL, CAPPADOCIA, ANTALYA AND BODRUM
Expressing that Istanbul is the undisputed prominent destination of Turkey for destination weddings, Kitzia Morales said; "Cappadocia, Antalya and Bodrum are also among the prominent destinations. Especially the fascinating view of Cappadocia makes this destination attractive. High-budget weddings can also be held in Bodrum," he said.

HOW SHOULD A DESTINATION FOLLOW TO MAKE DEVELOPMENT IN WEDDING TOURISM?
Finally, Kitzia Morales made suggestions about wedding organizations and the methods to be followed and the steps to be taken for a destination to develop in the field of wedding tourism. Morales said:
"In order for international weddings to be held in different destinations, that destination needs to develop in terms of infrastructure opportunities. Because many things are needed in many different areas within the scope of wedding organizations.
My suggestion is that first; Couples within the country should be encouraged to organize their weddings in a different destination than where they live in their own country, but within the country, steps should be taken in this direction and that destination should be developed for such organizations. It can make local weddings more convenient by learning and improving it by doing it in new destinations in this way. Later on, it can open up to foreign markets easily and more strongly."
"APPROXIMATELY 500 DESTINATION WEDDINGS ORGANIZED IN TURKEY LAST YEAR"
Explaining that about 500 destination weddings were held in Turkey last year, Morales said; "In a year, over 600 thousand destination weddings are held abroad on the scale of the USA and over 1 million on the scale of India. Mexico hosts approximately 90 thousand destination weddings every year. Turkey can easily get a share of this cake," she said.